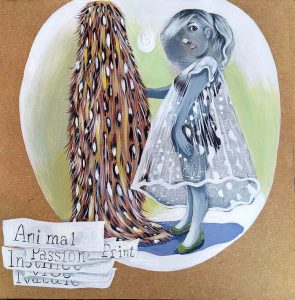 The Text and Visual Image
Nola Romano – Animal – acrylic on masonite panel (10″ x 12″) 2018
Michelle Lesnak – HOME – assemblage (12" x 35") 2020
Sam Thurston – Man in Brooklyn Bridge Park – oil on canvas (16"x11") 2010
(16"x11") 2010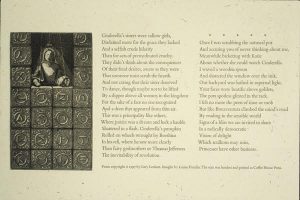 Louise Hamlin – Princess – etching 2008 Gary Lenhart, poem
Six Persimmons
The fruit is all bold brushstrokes
& negative space in an organized line.
There's one askew; absent color haunts
their forms. Faded orbs. Flat, but plump.
In stalls, I'll find dried ones, packaged;
the heft of each surprises. Winter lasts
longer than one wants. What is omitted
in those thick art history books —
place them in bowls of rice, to keep
them from bruising.
Sarah Audsley – Six Persimmons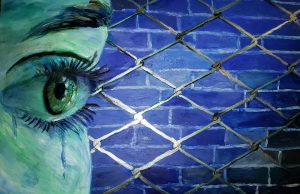 Donna Walsh – Where's my Mommie? – acrylic (12" x 16")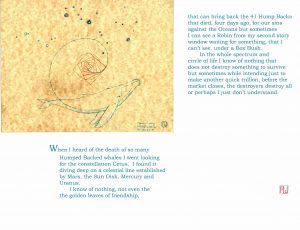 Philip Williamston – Cetus – (8.5" x 11") after I read in the New York Times of 41 Humpback Whales washing up on a beach 4/29/2017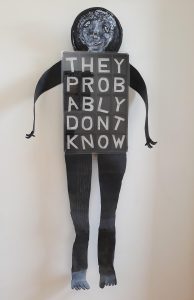 Janet Van Fleet – Black – mixed media (plastic, plexi, aluminum, rubber, metal (49" x 21"x7″) 2020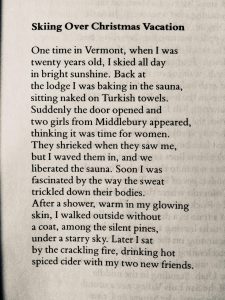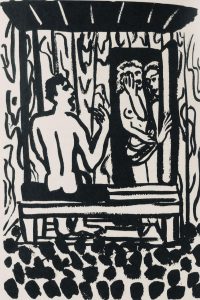 Janet Sawyer – Skiing Over Christmas Vacation – gouache on paper – Kenneth Gangemi, poem (12 "x 9") 1988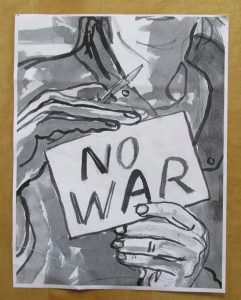 Marjorie Kramer – No War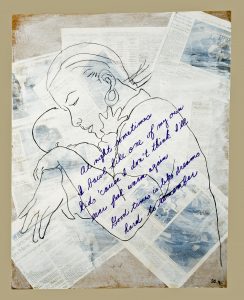 Susan Grabel – Sometimes I Bawl – collage and drawing on masonite,
(30" x 23.5") It was about homeless women and the text is from a poem by Renee Noelle.
Diana Mara Henry – Sneak – Copyright © Diana Mara Henry
BY WAYOF ILLUSTRATION
Work up a sky first: purview a few
watercolors bleed half to death.
Air looks a stench, then ink wets
a trail into the woods. Two runaway children
pluck up animal tracks one after another,
each track faster than the last, so the two
can't help stuffing themselves all the way to the lair.
There, pigments compound the telling
details until you have disappeared.
But by a worldly demeanor self-
evident around them, the children together
can't yet get lost. The lesser-loved
of the two (by the other) looks like an adventurer:
the sister or brother (or neither) may sulk & dither
until the nicety-brush, three sable hairs, will fix
them both mannerly at a wooden table, their faces
reflecting in bowls of yellow broth, but I can't
any longer distinguish their eyes in the steam. Flavor
of marrow rises & strays towards a glint of weather
the windowpane stops: No weather allowed in here,
you, you. Now even the children's names can't call.
Can't call: even if the artist designed
herself the kitchen clock's cuckoo next,
she couldn't summon its twit to change her mind.
Martha Zweig – BY WAY OF ILLUSTRATION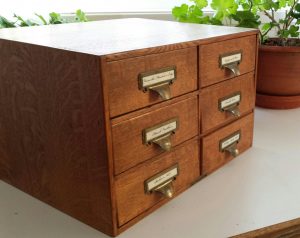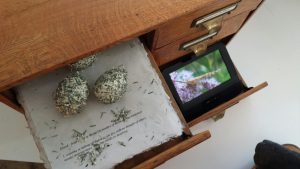 Kathryn Lipke – From the Meadows Edge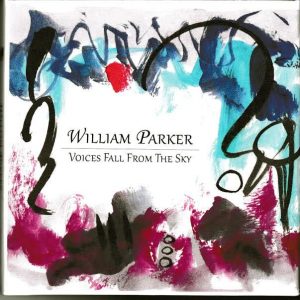 Lois Eby – Raining from the Sky – acrylic
requested by William Parker for his boxed set of 3 CDs, "Voices Fall from the Sky," Centering Records, 2017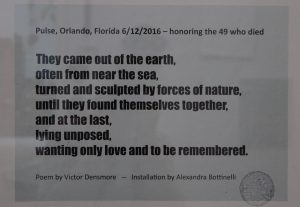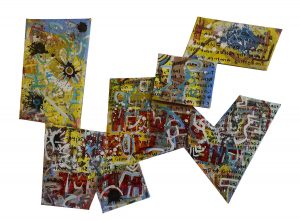 Barry Mason – Say it Loud 5 – Between The World and Me
Oil on Shaped Canvas (60" x 57") 2016
The Text and Visual Image
Notes on the exhibit by Sam Thurston
A visual image which follows a text is the most common. Consider all the depictions of Bible stories, myths, novels etc. that recast text into visual form. For many centuries in the West I bet half the paintings depicted a text. In this 'show' only a few artists followed this route, the most descriptive one being Janet Sawyer's image on the poem Skiing Over Christmas Vacation by Kenneth Gangemi.
The reverse of a visual image that follows a text is a text or poem that considers a visual image. Sarah Audsley's Six Persimmons does this. Like most poets, she does not just describe.
Alexandra Bottinelli's sculpture Pulse was exhibited with a similarly expressive poem by Victor Densmore. It is a collaboration, done the year of the Pulse Nightclub massacre in Florida 2016. Words and image are related – but one not the cause of the other – rather both 'caused' by a horrible outside event, a 'text' of sorts.
Probably beginning with Cubism, Western artists started using words both as descriptive markers and as plastic, abstract elements in the composition. This is a common use today. An extreme example is Barry Mason's painting Say it Loud 5 – Between The World and Me where you can hardly read the words as they are backwards and fragmented; they act as brushstrokes, not as bits of meaning.
More often words in visual presentations retain a subjective meaning, as with Michelle
Lysak's assemblage HOME. The mind looks for a connection between the word HOME and the image, creating a tension.
Another example where the words are charged, but you may be unsure what they have to do with the image is Nola Romano's Animal. When the words are political there is little doubt. Marjorie Kramer's No War is a good example. Another variation is when the words are used more as conceptual elements than as plastic or compositional elements as in Kathryn Lipke's From the Meadows Edge.
One of the least obvious poem-image connections is Martha Zweig poem By Way of Illustration: instead of thinking of the poem as something that talks about a specific image she gave us a poem that considers the idea of image. Another person who 'went off the page' is Lois Eby who wished to extend my idea to include her image illustrative of a particular track of music.
Many thanks to all the artists who contributed to this project. I apologize for not mentioning everyone.